Soda sales are falling. The thirst for fizzy sugar water is slowly abating. But damn are people excited about CBD, the medicinal component in cannabis that doesn't get you high. And Coca-Cola, the world's biggest beverage company, is taking notice.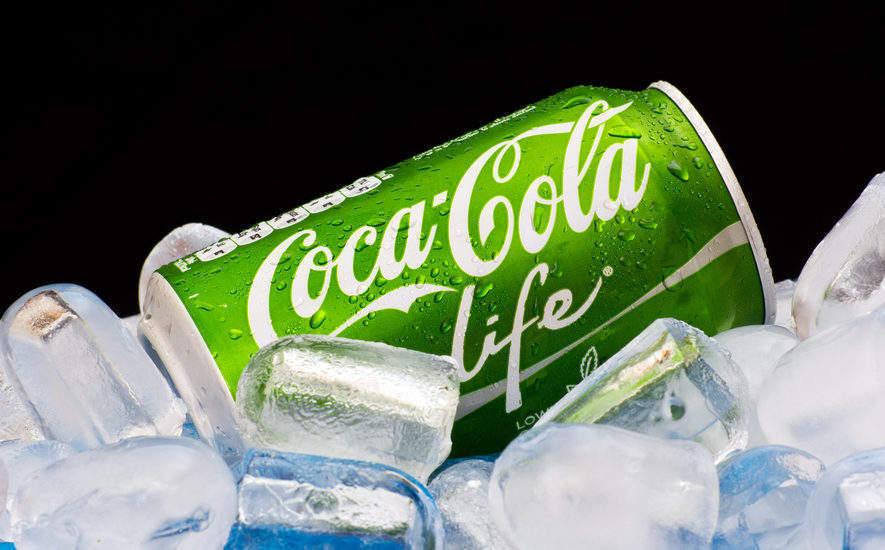 Bloomberg reports that Coca-Cola is openly interested in cracking the CBD market, and is currently in talks with a Canadian company called Aurora Cannabis Inc. about making a beverage. What that means for us is that they might start developing CBD-infused drinks. Bring on CBD Diet Coke.
Coca-Cola seems to be approaching this rumored beverage from a health angle; a spokesperson confirmed interest in "the growth of non-psychoactive CBD as an ingredient in functional wellness beverages." That's big news for anyone dabbling in the CBD world to make their bodies better, whether to relieve stress and anxiety, sooth sore muscles, or test out any number of other anecdotal cures. But again, Coca-Cola's drink won't get you high.
Other beverage companies are getting in on the CBD craze too,
especially the booze industry. Constellation Brands, which makes Corona, Modelo, Svedka, and more, dropped $4 billion in a Canadian cannabis company in August to work on cannabis-infused drinks and other products. It was the biggest cannabis investment ever made. Lagunitas Brewing makes a sparkling water with either CBD or THC (the cannabis compound that does get you high), whichever you're feeling. And other massive beverage companies like Molson Coors Brewing Co. and Diageo are in talks with cannabis companies as well.
On Monday, Coca-Cola issued a statement saying it is "closely watching" the growth of CBD—a non-psychoactive component in marijuana that could be a key ingredient in "functional wellness beverages" that Coke wouldn't be the first, either. Heineken is ahead of this game, already producing a THC-infused drink through its Lagunitas craft beer label. Because it contains the active ingredient in marijuana, it can only be purchased, for the time being, in medical marijuana dispensaries in California.
A number of Canadian cannabis companies, including Cronos (CRON) and MedMen Enterprises (MMNFF), now trade on US stock exchanges, and some American companies have taken stakes.
Some say that Coke is not likely to make any major decision until we see a change in federal laws in the U.S. But Canada could end up being the staging ground where Coke could try out its new product and prepare it for market, as CNN Money reported.
In a note to clients carried by CNN Money, Wells Fargo analyst Bonnie Herzog said Coca-Cola was positioning itself long-term, estimating that cannabis-infused drinks could end up being a $50-billion market annually in the U.S. That's a massive figure when you consider that the entire U.S. beer market sees $117 billion in sales.
The Coke teasers are yet another boost to Aurora …
And for the cannabis industry as a whole.
Coke deal would lend an enormous amount of credibility to the new sector. Such a deal would also be likely to start a chain reaction among non-alcoholic beverage makers, leading to some very big partnerships.
All this progress is possible in Canada, where recreational marijuana will be legal next month October 17th, 10/17
SOURCE: NASDAQ