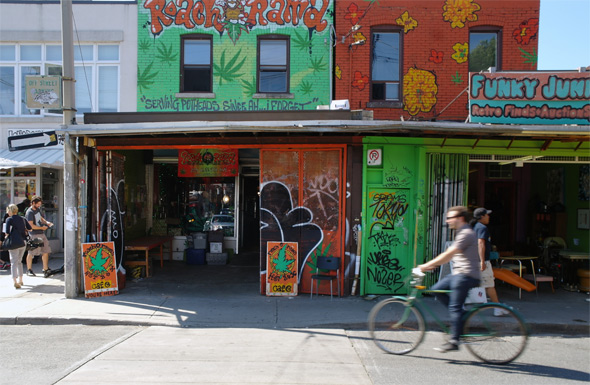 Members of the Cannabis Friendly Business Association plan to ask Toronto's Municipal Licensing and Standards Committee Monday morning for regulation in light of the federal legalization of marijuana.
Local lounge owners argue that provincial regulation, which says marijuana can only be consumed in the privacy of a home, is "not feasible."
"There is a huge number of renters, people living in condos and townhouses in the city. We just don't have the luxury of not intruding on our neighbour," Abi Roach, owner of the Roach-O-Rama and Hotbox Café, said listing the type of people who would not be able to smoke in their homes.
"You also have to think of parents with children or those living with elderly people or people with respiratory problems or tourists. Where are tourists going to smoke cannabis? In their non-smoking hotel rooms?" she asked in an interview.
The Toronto entrepreneur believes businesses like hers, which has been in operation for nearly 20 years, is the perfect alternative to the restrictive policy — not only because it allows communal recreation — but also because it will keep illegal marijuana trafficking and use of the streets, she argues.
"Having cannabis culture in spaces that are not a monopoly, that are owned by normal people who can serve the community best will keep street crime down and street consumption down. So it's an excellent way of reducing crime and reducing public nuisance," Roach said.
How does a cannabis lounge work?
Patrons pay $5 to get in the doors of Roach's Hotbox Café where their ID is checked. Anyone 19 years old and over can hang out and smoke weed, which they bring themselves, she says.
Roach adds that alcohol or any other type of drugs are not allowed in her establishment. People are given the option of using a vaporizer inside or combusting their cannabis on an outdoor patio.
She says that people who come to her business near Kensington Market are from all walks of life.
"If you ask me who my customers are, all I can say is that they are 19 and over. There are all types of people," she explained.
The Hotbox Café attracts about 10,000 customers per month because people, especially those with medical conditions want to smoke in a communal setting, Roach says.
But Coun. Glenn De Baeremaeker who also sits on the licensing committee, says the Cannabis Friendly Business Association "must be smoking something" if they expect the city to regulate their businesses.
"The city and the province have both said no, you can't smoke in these places for all the good reasons why we don't allow you to smoke cigarettes" the ward 38 city councillor said.
"If you want to do it in the privacy of your own home, you can do that. There is nothing stopping anyone from smoking in their own home, condo or apartment unit,  so there is no need for a lounge," he asserted.
Roach argues that people who cannot smoke in their homes will end up smoking marijuana out in the streets where it's more of a public hazard. But De Baeremaeker says that's unlikely.
Opposition not unanimous on licensing committee
"You've seen that 30 years ago people were allowed to smoke in offices. They're not allowed to smoke there anymore but despite that I don't see our offices overrun with office workers smoking higgly-piggly in every single park," he told CBC Toronto.
"This is a habit that causes cancer, causes lung disease, causes numerous disease. It's not good for you. The city is not going to support people doing it," the councillor added.
De Baeremaeker's opinions are not shared unanimously among members of the city's licensing and standards committee. But even supporters of the lounges doubt that they will be officially recognized.
Coun. Jim Karygiannis, a pro-cannabis lounges member of the committee, says the resistance from some city councillors comes from their attempts to appease their  "not-in-my-backyard" type constituents.
The Municipal Licensing and Standards board meets Monday morning at 9 a.m.
SOURCE: CBC